Stainless Steel Vertical Booster Pumps
The Webtrol NV Series vertical multi-stage booster pumps offer designs to meet a wide range of industrial process, commercial and agricultural applications. Booster pump bases and flange sizes allow drop in replacement for other brand pumps.
All wetted parts are 304 or 316 SS.
Standard WEG Motors. (ask us about other brands)
Handles temperatures to 248 F, ideal for hot water process applications.
Standard cartridge-type mechanical seals.
Pump design enables standard electric C-Face motors.
Heavy duty stainless steel hex shaft with stainless steel coupling.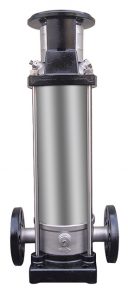 Webtrol NV Series Vertical Stainless Steel Pumps
Webtrol NV Series Vertical Stainless Steel Pumps
Series
HP
ANSI Flange
Stages
MAX Pressure
NV6
.33 to 3

300# 1.25"
2-27
362 psi
NV12
.33 to 5

300# 1.25"
2-25
362 psi
NV25
.75 to 7.5

300# 1.25"
2-24
362 psi
NV45
1 to 15
300#  2"
1-10
232 psi
12-17
362 psi
NV65
2 to 25
300#  2"
1-8
232 psi
8-12
362 psi
NV85
3 to 25
300#  2"
1-7
232 psi
8-10
362 psi
NV120
3 to 4
150#  2.5"

300#  2.5"

1-5
232 psi
6-10
465 psi
NV180
7.5 to 60
150#  3"

300#  3"

1-4
232 psi
5-7
465 psi
NV280
7.5 to 60
150#  4"

300#  4"

1-3
232 psi
4-5
465 psi
NV400
15 to 60
150#  4"

300#  4"

1-3
232 psi
4
465 psi
Downloads: