Water Treatment & Arsenic Removal
The Applied Process Water Treatment Division designs and builds innovative water treatment solutions addressing arsenic and other inorganic heavy metals for small water systems, rural water utilities, and commercial and industrial water users. You will find our arsenic removal systems installed in schools, small hospitals and manufacturing plants, RV parks, subdivisions and multi-user wells across north America.
Both Standard and Custom Engineered Solutions
Applied Process standard water treatment packages include cost-effective bulk media systems and unique NSF 61 certified media cartridge systems.
When a complex water profile calls for it, we also design and build custom engineered water treatment and water filtration systems utilizing a combination of standard and custom-built components. These packaged treatment systems may use any one of a number of different technologies – adsorption medias, RO, UV or Ozone.
We begin with a complete water analysis of your drinking water system. It is used to select the correct water treatment process, design the system and estimate media life. This up-front water profile data is vital in determining the most cost-effective treatment system for your application.
Whether you need to install a new water treatment system or replace an existing one, we would be happy to review your applications and explore options with you.
Water Treatment & Arsenic Removal
WATER TREATMENT & ARSENIC REMOVAL
Arsenic Removal

Arsenic Removal Cartridges

Arsenic Removal Media

Arsenic Removal Cartridges

Resins & Absorption Medias

Fluoride Removal

Water Treatment Media

Iron & Manganese Removal

PFAS/PFOS Removal

PFAS/PFOS Removal Media

PFAS/PFOS Removal Media

Flocculants & Polymers

Water Treatment Cartridge Systems

 

Ozone Water Treatment

 

RO Reverse Osmosis

 
Pilot Testing
A pilot system can be invaluable to test performance of a proposed system before full scale implementation.
Applied Process can provide pre-plumbed pilot skids for many of our products. All required contaminant removal pilot equipment is integrated onto one skid for plug-and-play installation. Our staff then works with you to coordinate shipping, onsite set-up and start-up, and test tracking.
PILOT TEST SKID SYSTEM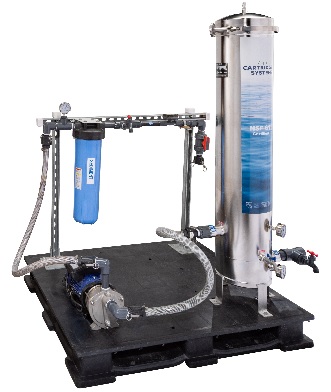 Custom Designed Contaminant Removal Systems
We address a wide range of inorganic and heavy metal contaminants in both potable and non-potable water including:
* Arsenic III & V
* Iron & Manganese
* Silica
* Nitrates
* Chromium
* Fluoride
* PFAS/PFOS
Our package water treatment systems are designed to address a customer's exact application requirements and may feature:
* One or a combination of NSF 61 Certified arsenic treatment and filtration medias including Zirconium, Titanium, Iron oxide, activated alumina and more.
* Media cartridges for exceptional user convenience.
* UV sterilization.
* pH control.
* Reverse osmosis systems.
* Ozone generators.
* Standalone vessels or modular pre-piped skids.
* Pumps and pre-filters.
* Fully automatic controls and valves.
Do you need a cost-effective replacement media for your existing water treatment system?
We can help.
Do you need to remove Fluoride, Phosphorus, Nitrates or PFAS from drinking water?
We can show you options.
Do you need to find a simple, trouble-free arsenic removal system that won't break your small water system budget?
We have your answer.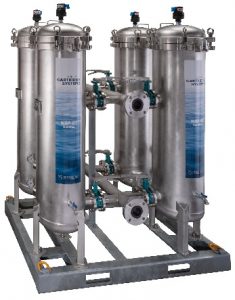 NSF 61 Certified Cartridge Skid Systems
Resins & Adsorption Medias