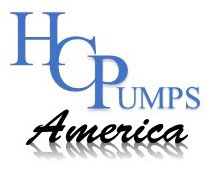 Submersible Sewage Pumps and Lift Station Pumps for Wastewater Treatment
Applied Process is proud to offer HCP Pumps to our customers. Established in 1979, HCP Pump, a specialist submersible pumps, has grown to be one of the leading submersible pump manufacturers in the world.
With over 300 models of HCP pumps to choose from, in a variety of materials (cast iron, stainless steel, urethane rubber, and aluminum), sizes, and electrical configurations, Applied Process Equipment can work with you to find the precise HCP pump for your application.
Quality Grinder Pumps with 3 to 5 day delivery
HCP Submersible sewage and grinder pumps are STOCKED IN THE USA to meet short lead time requirements. They are ISO 9002 registered and now hold ISO 14001 accreditation as well.

GF Series Submersible Grinder Pumps & E-One Replacement Pumps
Watch the HCP Grinder Pump Video
HCP grinder pumps offer you exceptional solids grinding capability together with long pump life for a truly economical sewage transfer.
The HCP GF grinders are submersible solids handling pumps able to handle large solids up to 3" diameter including string, cloth and other tough debris, thanks to a fitted vortex impeller and cutter ring.
They are used extensively in pressure sewage systems, for wastewater transfer in commercial buildings, and for wastewater drainage in residential applications. Unlike other grinder pumps that can only run in higher head pressure, the HCP grinders can operate in low head applications, (very little vertical lift, short horizontal run), without burning out.
With motors ranging from 1hp to 10 hp, HCP grinder pumps can deliver flow rates up to 75 gpm. Explosion proof pump models available.

SA/SF Series Stainless Steel Pumps
The HCP SS/SF Series submersible Stainless Steel pumps have been designed to address a wide range of pumping applications from sanitary sewage to corrosive fluids in chemical, industrial, saltwater and metal processing.
HCP SF/SA pumps are manufactured in either AISI 304 or AISI 316 stainless steel. All models are fitted with Viton o-rings, air cooled motor, double mechanical seals, and the special HCP auto-cut feature for internal temperature & amperage protection.
The motors on the HCP stainless steel pumps range from 0.5 hp to 10 hp, and can deliver flow rates to 540 gpm and pass solids up to 2".

AF/IF Series Submersible Sewage Pumps
The heavy-duty HCP AF Series submersible sump pumps were designed for drainage and sewage and effluent handling. Ideal lift station pumps!
The AF Series offers over 50 models of both portable and permanent installation pumps for use in a full range of residential, municipal and commercial applications. Built with high-grade cast iron for long life, they can handle solids up to 4 ¾" and address high heads and/or high flow duty points.
Standard AF models feature industrial-grade cables, air-cooled electric motors, silicon carbide mechanical seals, and a choice of impeller designs. The motors range from 0.5 hp to 60 hp, and can deliver flow rates to 6,700 gpm. Optional float switches and guide rails are available if required.
HCP Focuses On Pumping Solutions
Drainage pumps
Explosion-proof pumps
Stainless steel pumps
Agitator pumps
Dewatering pumps
Sump pumps
Wastewater pumps
Lift station pumps