View HCP GF Series Grinder Pumps from APE Water
HCP Pumps has manufactured sewage, chopper and grinder pumps for residential, commercial, industrial and municipal applications since 1979. The star of the HCP line, the GF Series Submersible Grinder pumps, offer exceptional solids grinding capability and long, reliable service life. We offer HCP Pumps with competitive pricing and a wide range of sizes and configurations. GF Series grinders are easy to install "drop in" pump replacements for most other pump brands including E-One grinder pumps.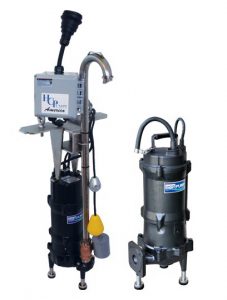 With one single shaft with an impeller and radial cutter, pump efficiency is increased while motor torque and horse power requirements are minimized. Pump impeller blades are tungsten-carbide tipped for longer life.
The cutter wheel assembly is able to shred tough debris including items such as plastic, rubber, rope or string, cloth, sanitary napkins and diapers to prevent clogging. Large solids up to 3" diameter are ground to a fine slurry for transfer to a variety of sewage treatment applications through down to 1 ¼ "pipe. The GF Series grinder pumps are used extensively in pressure sewage systems, for wastewater transfer in commercial buildings and for wastewater drainage in residential applications. Unlike other grinder pumps that perform at low flow and head pressure, the HCP grinders can operate in high flow and lower head applications (very little vertical lift, short horizontal run) without burning out.
Top features include:
FC 200 Cast iron construction
316SS hardware
Corrosion resistant radial cutter ring in SUS440V high-carbon stainless steel hardened to 55-60 Rockwell standard
Optional float switch
230/460 volt, three phase 50Hz / 60Hz motors
Standard accessories include:
AC Thermal motor protectors
Epoxy resin cable bases
Double mechanical seals
Lower: Carbon ceramic
Upper: Silicon carbide
Double ball bearing support shaft motors
For more information and pricing, contact Applied Process Equipment online today! You can also call us at 480-998-4097 or send a message to sales@apewater.com.
Applied Process Equipment