Applied Process Equipment a manufacturer and designer of contaminant treatment solutions for all types and sizes of drinking water systems. We are problem solvers, and work hard to find the exact set of treatment products and delivery systems. to address your specific application requirements.
Our objective is to provide you with a One-Stop-Shop solution Arsenic Removal water treatment systems.
Engineering design assistance
Compete equipment package delivery
System start-up training
Aftermarket parts, media replacement and technical support.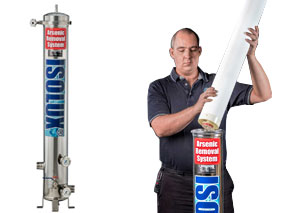 Do you need a cost-effective replacement media for your existing arsenic water treatment system?
Do you need to remove Arsenic, Chromium, Nitrates or Uranium from drinking water?
Do you need to find a simple, trouble-free arsenic removal system that won't break your small water system budget?

Ion Exchange & Adsorptive Resins
FerrLX A33Eis a direct replacement for Bayoxide E33
Resins for the removal of nitrates, Chrome VI, Uranium & Radium
Media regeneration available
Full lab services & field services available

Proven Zirconium Arsenic Removal Systems
Whole-house & light commercial systems from 5 to 300 GPM.
Easy to handle cartridge systems.
No complicated maintenance or backwashing.
Non-toxic. Quick, easy non-hazardous disposal for spent cartridges.
Verified for 99% to non-detect arsenic removal.
Media NSF 61 certified for drinking water use.
Manufactured in the U.S. by Applied Process Equipment.

NXT-2 Lanthanum Based Absorptive Media
Lowst treatment costs per thousand gallons for adsorption technology.
Commercial 300 to 2,000 GPM systems.
Removes Arsenic lll & V to less than 5 ppb without oxidation steps.
Removes other contaminates including phosphate, chromium, selenium, fluoride, lead and more.
Call us. Let's have a conversation about your application requirements and get started!