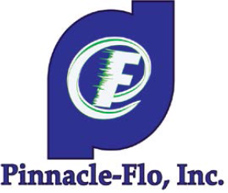 Pinnacle-flo Pumps
As an expert manufacturer of industrial, self-priming ANSI pumps, Pinnacle-flo Pumps are top-of-the-line products that we are proud to supply!
Pinnacle-Flo, Inc. is a premium manufacturer of a broad range of pumps for oil & gas, chemical process, industrial, municipal, food processing and agriculture, mining and minerals, and power generation applications.
ANSI Process Pumps
Heavy duty Pinnacle-flo ANSI pumps are primarily designed for the chemical and process industry. As such, they are built to pump a variety of corrosive fluids and a heavy duty shaft assembly for high load applications and for when conditions push the power frame beyond ANSI limits. Standard design features include extra metal in wear areas, large seal chambers for variable mechanical seal arrangements, oil lubed, and performance reliability through highly engineered components.
The Pinnacle-flo ANSI Series 8896 pump features a fully open impeller design, which is acknowledged as the best design for process services, and is ideally suited for liquids that contain solids and stringy materials. Using an open impeller design means minimum hydraulic loads for maximum mechanical reliability, renewable performance for reduced repair costs, and greater wear area for longer product life.
Self-Priming Pumps
Designed to run above water level, Pinnacle-flo self-priming pumps are versatile and ideal for clear liquids, limited solids and dirty water applications. Easily operated and serviced, Pinnacle-flo's self-priming centrifugal pumps come in several product lines for various purposes and are available either as complete packages or as individual basic units.
End suction centrifugal mud pumps
The most popular centrifugal pump in the drilling industry because of its proven reliability and durability handling abrasive fluids, and economical structure. It is available in Hi-Chrome, hardened iron, and stainless steel fluid ends. The pumps can be unitized with electric motors, diesel engines, and hydraulic motors (horizontal, vertical, or close-coupled configuration).
Air-operated Double Diaphragm (AODD) Pumps
Pinnacle-flo AODD pumps are the ideal solution for jobs involving abrasive and corrosive fluid transfers, such as chemical evacuation, drum fluid transfer and more. These pumps come in a variety of sizes, have a maximum capacity of 300 GPM, and are easy to service thanks to the easily accessible air motor.
Applied Process Equipment takes great pride in supplying these innovative, top-of-the-line products along with our expert design application assistance services. Our dedication is solving your problem, and our reputation is based on the quality of the products we supply and our ability to support our customers to their satisfaction. Whether you need a total package system solution or stand-alone equipment, Applied Process Equipment is here to help! Contact us online or call 800-269-4098 today for more information!