Avoid fines & health risks from fat, oils & grease build-up.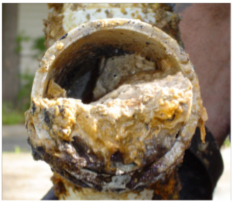 Restaurants, commercial kitchens and industrial food-processing plants generate millions of pounds of fat, oil and grease a year. Disposed of down a sewer it starts out warm and flowing but soon cools and collects on the interior walls of pipes constricting flow.
This coagulated grease, commonly called FOG, is the number one cause of blockages in sewer lines, sewer pump stations and wastewater treatment plants.  Grease related back-ups and manhole overflows are smelly and unsightly, difficult and costly to clean-up and repair, and can present serious human and animal health hazards.
In the face of EPA regulations, many cities and towns have enacted policies and ordinances with significant fines to combat grease problems in their systems with significant fines and or health code violations. To comply with such regulations commercial establishments are often now required to install automatic grease removal systems to intercept, separate and retain grease to prevent sewer discharge.
It is key that grease interceptors be properly sized to handle the amount of wastewater and grease that will flow to it. Retrofitting an improperly sized device can be very costly. It is also important that units be pumped out and cleaned at the right frequency.
Applied Process Equipment, Inc. has helped commercial and industrial customers of all sizes design grease removal systems – from multi-story, mixed use commercial developments, hospitals, airline terminal concessions, industrial food processing plants, all the way down to corner restaurants. We would be happy to help you review grease removal system plans for new facilities, or evaluate concerns with existing systems.