Check Out APE Water's Updated AVK Series 53 Ball Check Valve
AVK has acquired the HDL line of ball check valves and the HDL 5087 is now the AVK Series 53 ball check valve. HDL Model 5087 has long been the most widely used ball check valve for municipal sewage and industrial wastewater applications. Today, the AVK Series 53 ball check valves are still the simplest, most cost-effective backflow prevention solution!
Simply put, a ball check valve allows fluid to move through pipes in one direction but prevents it from flowing in the reverse direction. The freely seated ball inside the valve has a slightly larger diameter than that of the through hole. When the pressure behind the ball seat exceeds that from above, fluid is allowed to flow through the valve. Once the pressure above the ball exceeds the pressure below, the ball returns to rest in the seat, forming a seal that prevents backflow.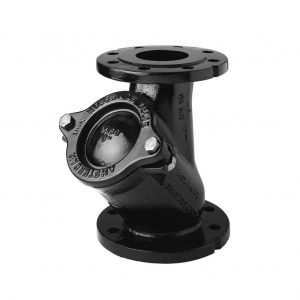 For example, in the case of a lift station pumping uphill, to prevent the all the water in the pipes from flowing back into the wet well when the pumps shut off, ball check valves are typically installed following the pumps. The AVK/HDL ball check valves provide exceptional backflow prevention, with virtually no clogging and low-friction loss. The ball is the only moving part in the valve. It moves completely out of the flow path for minimal head loss. On closing, random ball seating ensures long life.
Balls are self-cleaning and available in a wide variety of weights to exactly match each application to prevent water hammer. The special valve design eliminates the need for expensive accessories such as hydraulic cushions to prevent slamming. And with only one moving part and bolt-on covers for quick, easy ball replacement, maintenance for the non-return AVK/HDL check valves cannot get any simpler.

Available in flanged sizes (HDL 5087 / AVK FLxFL) from 2" to 24" in ductile iron, and in NPT models (HDL 2030 / AVK NPTxNPT) in sizes 1 ½" to 2" in stainless steel OR ductile iron.
Features:
Handles line size solids
Valve housings in choice of ASTM A 536 Ductile iron or 316 stainless steel
Standard Balls in Nitrile with Buna N coating (Polyurethane and other materials also available)
Sinking and floating ball options
Bolt-on covers for quick, easy ball replacement
Working pressure rated to 150 psi
Horizontal or vertical mounting
All valves leak tested to 150 PSI with a 225 PSI shell test
For more information and reseller pricing, contact Applied Process Equipment online! You can always call us at 480-998-4097 or send us an email at sales@apewater.com.
Applied Process Equipment