AXEON Reverse Osmosis (RO) Systems
Ideal for water treatment applications including arsenic removal
AXEON Reverse Osmosis Systems address a wide variety of applications, such as tanks and pumps, disinfection systems, chemical feed systems, deionization systems, water softeners, and multi-media and carbon filters through the application of engineered membrane solutions. Manufactured in the United States, all AXEON reverse osmosis systems are created to specification by expert application engineers. Swift turnaround times, robust membrane solutions and exceptional support make AXEON one of the top OEM service providers in the industry.
Reverse Osmosis (RO), Ultra-filtration (UF), and Nano-filtration (NF) Systems
Standard systems to 500,000 gpd.
High water recovery, low RO reject flow.
Low, extra low, and ultra low energy consumption.
Industrial water, brackish water, seawater.
Pre-plumbed, wired, fully assembled, and tested prior to shipment.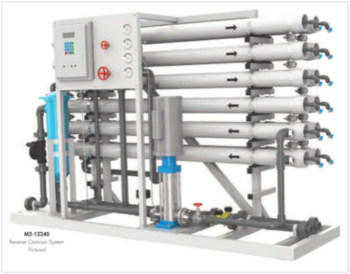 Highly effective as standalone equipment, AXEON Reverse Osmosis Systems also work as part of a larger integrated water treatment system, such as pharmaceutical manufacturing, spot-free vehicle wash, pre-treatment for deionization systems, food and beverage, aquaculture, and more.
With hundreds of possible configurations, upgrades and options available to suit specific applications and needs, it's no surprise that more than 15,000 AXEON reverse osmosis water treatment systems have been sold, satisfying the needs of customers across the world. To date, more than 30,000,000 gallons of water have been purified for a variety of applications by AXEON water treatment systems. For example, the Universal Studios Los Angeles theme park utilizes the AXEON Membrane Solutions for purified water for misting systems and cleaning of 3D glasses. Since their installation on the popular Simpsons 3D, King Kong and Transformers attractions, they have continued to operate flawlessly.
You can count on the quality and reliability of AXEON's systems thanks to lightweight aluminum frames designed to resist corrosion and made with the most trusted brands of pumps, components and pressure vessels in the industry. The pre-filtration process reduces harmful contaminants that may damage the membrane, ensuring lasting performance and longevity, while controllers and instrumentation ensure operation is easy and reliable.
At Applied Process Equipment, we strive to offer the best water treatment systems on the market. Our dedication to clean potable water has led us to become experts in arsenic removal and other dangerous groundwater contaminants. Call us at 480-998-4097 or contact us online today to see what we can do for you!